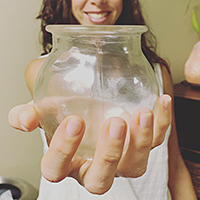 Hi, I'm Christina Prieto and I have been a licensed acupuncturist in the Central Florida area for over 14 years. I studied at the Florida College of Integrative Medicine, and graduated Cum Laude with a Bachelor's Degree of Science in Professional Natural Health Studies and a Masters of Science in Oriental Medicine.
These studies include specialized training in acupuncture, Chinese and Western herbs, nutritional therapy, cupping, moxibustion, and other natural healthcare modalities. I received additional training from renowned physicians including Dr. Li-Chun Huang in Advanced Auricular Acupuncture and Dr. Richard Tan in the Meridian Balance Method. Additionally, I have a certification in Acupoint Injection Therapy and Homotoxicology. I enjoy gathering additional knowledge by participating in workshops, healing retreats, industry symposiums, and continuing education courses, as well as doing a bit of teaching and community acupuncture.
I traveled to China to further my studies as part of my training and successfully completed an internship in China at the Yantai Traditional Chinese Medicine Hospital. This not only sparked my deep sense of wanderlust that has fueled my passion for travel, but is where I gathered a complete understanding of traditional Chinese healing methods and deep cultural immersion that has integrated into my work.
I founded Harmony Wellness Center in June of 2005, a sanctuary for healing, where I practiced full time alongside my valued colleagues. With 7 treatment rooms and a fully stocked pharmacy, I was able to provide my community with full service alternative healthcare needs, in addition to allergy testing and full nutritional testing in the form of blood work too! Recently, I have shifted into a role as a single practitioner so that I can focus solely on patient care, which is what I love the most!
I am proud to be a member of the Florida State Oriental Medicine Association (FSOMA) and the American Association of Oriental Medicine (AAOM).
Treatment Techniques
Traditional Chinese Medicine
Acupuncture
Fire Cupping
Acupoint Injection Therapy
Acupressure
Aromatherapy & Pharmaceutical-grade oils
Auricular Acupuncture & Ear Seeds
Gua Sha
Herbology & Supplementation
Moxibustion
Meridian Balancing Technique